Home » Destinations » Himachal Pradesh » Ice Skating
Ice Skating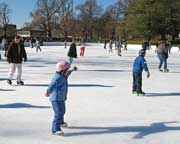 Himachal Pradesh, situated in the foothills of the Great Himalayas, has become an important centre for adventure sports in India. The surrounding snow covered mountain ranges of Dhauladar, Shivalik and Pir Pinjal together contribute in making Himachal Pradesh an ideal location for performing the innumerable winter sports. These sports are full of thrill an excitement. One of the most sought after sport that Himachal offers to the adventure lovers and the holiday makers is Ice-Skating. Not only in the entire Himachal Pradesh but in the country as a whole, Shimla offers the best opportunities to try out ice skating.
The winter sports festival organised each year in December in the capital city – Shimla has ice skating as one of the major attractions. The ice skating rink in Shimla covers a large area. You will be amazed to see the natural frozen ice here that enables you to indulge in ice skating. Not only those who are fond of adventure sports but all the tourists who come over to Himachal will surely have a great time ice skating in the oldest skating rink of Asia.
Ice skating is somewhat similar to another ice sport, skiing. Instead of sliding down the snow-clad mountain slopes, you are required to put on the ice skates and glide in a skating rink. You can do it alone or with a partner. But keep the fact in mind that ice skating is not as simple as ordinary skating. You will to balance extremely well in order to skate on ice.
Ice skating in Himachal begins during the early December and continues till the month of February. Low temperature and clear sky make these months the ideal time for continuing uninterrupted skating. You can choose to skate either during the morning hours or evening hours. Ice skates are available on rent in the rink only. In case you are experienced in the sport, you can go for figure skating or ice hockey that are much more adventurous. So, what are you still waiting for? Plan a visit to Shimla in Himachal Pradesh to enjoy ice skating.
Adventure Sports in Himachal Pradesh:
Powered by SOFTTIX