Home » Adventure Sports » Mountaineering » Mountaineering in Himalayas
Mountaineering in Himalayas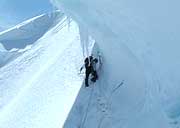 The largest range of mountains on planet Earth, the Himalayas, spell an irresistible magic on the mountaineers. The vastness, natural beauty and fascination of the Himalayas has an everlasting impact on all those who tour to the Himalayas. Himalayan range with its bewitching landscape and matchless variety of flora and fauna serves as a paradise for the mountaineers. There exists no better option than the Himalayas for an adventurous holiday. It offers everything from easy to challenging mountaineering excursions for its holiday makers. Some of the popular sites for mountaineering in the Himalayas include :




Ladakh

The most spectacular routes for mountaineering in Ladakh are offered by Zanskar and Suru Valley. Then there is Nun Kun Massif that serves to be the most popular and frequently climbed area in Ladakh. This area is so famous amongst the mountaineers that it is booked for months and sometimes for years ahead. It is the highest peak in Ladakh which is situated on the great Himalayan range at an altitude of 7,077 metres. In order to reach this peak, you will have to cover the Kargil-Padum road. You can also choose to approach the peak from Parkutse along the Kangri Glacier. Other important peaks in the Suru and Zanskar area include Pinnacle, D41, Z1 and White Needle.




Sikkim

Kanchenjunga, the third highest peak world wide, can also be a part of your mountaineering in Sikkim. The peak is considered to be the guardian deity of Sikkim. There are several peaks in Sikkim where mountaineering can be conducted. Rahtong at an altitude of 22,000 feet has a number of peaks. Before you start mountaineering here, get the permits. Other peaks in Sikkim that stand at an altitude 24,000 feet and above are namely Jonsong, Tent and Talung. Other known peaks are Kabru, Chulior Kirat and Sinolchu.




Manali

Most of the mountaineering activities in Himachal Pradesh are held in Manali. The snow-clad and towering peaks that surround Manali make it an ideal destination for mountaineering.




Uttaranchal

The Himalayan ranges of Uttaranchal are just the perfect ones to go for a mountaineering expedition. Since Himalayas offer several ranges for the purpose of mountaineering, the mountaineer can take their pick depending on their choice. Almost all sorts of mountaineering expeditions ranging from simpler to the difficult ones are offered by the Himalayan ranges. You can accomplish mountaineering outings ranging from an altitude of 3000 metres to 7000 metres out here in Uttaranchal.


The regions of

Kumaon

and

Garhwal

are also ideal for conducting mountaineering. While you are in the Garhwal region, opt for the route that leads to Panch Kedar. Talking of the region of Kumaon, Pithoragarh is a famous place that offers some ideal sites for mountaineering.
Powered by SOFTTIX