Home » Adventure Sports » Jeep Safari » Jeep Safari in Himachal Pradesh
Jeep Safari in Himachal Pradesh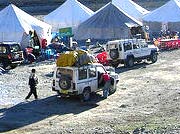 Himachal Pradesh in India serves as a paradise for the adventure seekers. The most mountainous terrains in the world that are present in Himachal Pradesh catapult a number of adventure lovers each year. The state is blessed with wide valleys, snow covered mountain peaks, calm lakes, low hills, gushing rivers and streams will fascinate you immensely Jeep safaris in Himachal Pradesh are quite popular amongst the other adventure sports offered by Himachal Pradesh. It is not necessary to explore the natural beauty of Himachal Pradesh only on jeeps.




Other vehicles like a car or a motorcycle can also be tried out. While travelling in your jeep through the winding roads of Himachal Pradesh, observe the magic that the Himalayas spell. You will enjoy the whole of travelling experience like never before like never before.


Explore the wonders, both natural and artificial, while you travel through the Trans Himalayan route. Reconnect with nature while you travel through one of the world's longest highways. The journey shall begin from Shimla taking you over amidst the majestic sceneries of Kinnaur, then driving over to Spiti, Kunzum Pass and finally to Lahaul. In order to reach Lahaul, you can also opt for another route starting from Manali through Rohtang Pass taking you to Lahaul. Just plan your tour, get a road map and you are all set for the adventure and thrill.
Powered by SOFTTIX