Home » Destinations » Ladakh
Ladakh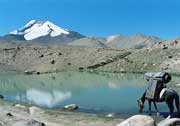 Ladakh, fondly known as 'The Last Shangrila', is simply a paradise surrounded by mighty mountains. You will have to pass through several beautiful passes in order to reach Ladakh. You can also choose to fly over the Himalayas so as to reach Ladakh. Catch a glimpse of the rich culture that exists amidst this Buddhist prominent place.
While you are in Ladakh, see its far-famed monasteries (gompas) that are spread all over the landscape of the state. Your tour to Ladakh will remain incomplete without this. Donate for the welfare of the monastery while you visit them. Hemis and Lamayuru Monastery are the most famous ones.  
It will be a double treat for you if you are in Ladakh during the festival season. Ladakh Festival that continues from 1-15 September, Sindhu Darshan that continues from 1-3 June, Losar Festival and Hemis Festival bring out the customs and traditions of Ladakh at its best. Be a part of the celebrations of these colourful festivals.
Renowned for its natural beauty and a variety of topography, Ladakh offers an opportunity to indulge in adventure sports like mountaineering, rafting and trekking. Opportunities for local games like polo and archery also exist in Ladakh.
While you are in Ladakh, Hotel Dragon, Lotus Hotel, Cho Palace Hotel and Lasermo Hotel are a few names that offer cozy and comfortable stay. You can satiate your taste buds at Dreamland Restaurant that serves a delectable array of Kashmiri, Indian, Tibetian and Italian dishes. Numerous options for baked food are available at the Penguin Bar and Restaurant.
Shopping for traditional items in Ladakh increases the excitement of the Ladakh tour manifold. Items like Tea and chang pots in silver, copper and brass, Lids and stands for tea cups, far-famed Pashminas and Tibetian carpets are spilled in the markets of Ladakh. The art emporiums and handicraft showrooms run by the government display several beautiful items. Shopping in Ladakh is great fun.
Ladakh is 434 kilometers off Srinagar. Regular flights to Leh are available from Delhi, Jammu and Srinagar.
Adventure Sports in Ladakh:
Powered by SOFTTIX