Home » Adventure Sports » Rafting » Rafting in Ladakh
Rafting in Ladakh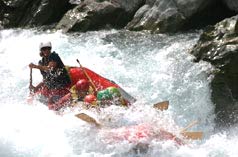 River rafting in Ladakh offers you an experience that you will remain etched in your memory forever. While you raft though the gushing waters in Ladakh, appreciate its picturesque landscape dominated by snow-capped peaks, villages besides the hillside, monasteries on the hilltops and extraordinary wildlife.




The ideal time to opt for river rafting in Ladakh falls between June to October. The main destinations for conducting river rafting in Ladakh include the Indus River and its tributaries, Shayok River in Nubra and Zanskar River in Zanskar. These rivers offer an adventure enthusiast with numerous rafting options.




The single source of water supply in Ladakh is River Indus and its tributaries. The river Indus begins from the sacred mountain range, Mount Kailash. The river enters the Ladakh region somewhere around Demchok. Initially the river flows slowly though the open valleys thereafter forming small channels in several places. As the river continues to flow, it makes splashes of blue, yellow, green, crimson and purple on the cliffs. The sight is simply breath-taking that cannot be replicated elsewhere.




While rafting through the waters of the River Indus, you can choose one form the two most popular rafting stretches. The first one begins from Spitok and goes upto the confluence of Indus and Zanskar at Nimmu from where you raft till Alchi, the ancient temple complex. Those who want to follow a challenging route shall try the stretch between Alchi and Khalsi.


The rafting options offered by the Zanskar River are difficult yet exciting. One of the popular stretch here ranges from Padum to Nimu. Rafting in Ladakh is an interesting adventure sport that must not be missed by any adventure enthusiast.
Powered by SOFTTIX