Home » Adventure Sports » Mountaineering » Mountaineering in Himachal Pradesh
Mountaineering in Himachal Pradesh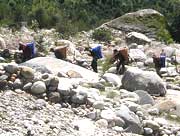 Himachal Pradesh, situated in the foothills of the Great Himalayas, has become an important centre for adventure sports in India. The state is packed with all the necessary ingredients for adventure. Explore its snow-clad mountains, high peaks and unravelled valleys. The surrounding snow covered mountain ranges of Dhauladar, Shivalik and Pir Pinjal and the majestic Himalayas offer opportunities for several adventure sports. Therefore, the state attracts countless tourists each year. The opportunity of mountaineering and rock climbing over the natural mountainous and rocky terrain of Himachal Pradesh is a great attraction that should be experienced by one and all.




Himachal Pradesh serves to be a paradise for those who are fond of mountaineering. Several institutes in Himachal promote mountaineering over the slopes of Himachal. These institutes are present in the natural surroundings of the state. Most of the mountaineering activities in Himachal are held in Manali.


The ideal time to indulge in mountaineering and rock climbing in Himachal Pradesh lies between the months of

April to November

. During all these months, the slopes of the Western Himalayas are easily reachable. Even during the colder months, the ones from December to March, you can indulge in mountaineering and rock climbing while you are in Himachal Pradesh. In case you are the one who is

driven by the call of adventure

do not miss out an adventure packed tour to Himachal Pradesh.
Powered by SOFTTIX