Home » Adventure Sports » Trekking » Trekking in Uttranchal
Trekking in Uttranchal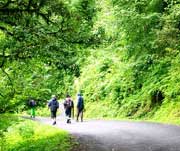 Uttaranchal is one amongst the most scenic Indian state. Situated high above the sea level, the state attracts a horde of adventure lovers from different parts of the country and even outside it. Uttaranchal is packed with multitude of adventure activities that contribute in making no moment of your tour to Uttaranchal dull. Out of the several activities that Uttaranchal offers, trekking is the most favoured one amongst the tourists.




Garhwal and Kumaon regions in Uttaranchal offer the best terrains for trekking in Uttaranchal. In the region of Kumaon, Pithoragarh has several good trekking sites. Start your trekking tour from Pithoragarh and travel upto Sinla Pass. The experience will leave you bewildered.




Yet another exciting trekking route in Pithorgarh is Gori Valley. Trekking there from Munsyari upto Ralam is one option out of the various others. You can also choose to trek in regions like Kuti, Dhauli and Kali. Another trek route here leads you to Kailash-Mansarover. While you trek, have a close look at the lifestyle of the local people, their culture and customs. The trek route in Bageshwar, a pilgrim centre in Kumaon, is something that will be loved by the adventure enthusiasts. This route takes you to Kafni glacier.




Alike Kumaon, Garhwal also offers innumerable interesting trekking options. While you trek through the Panch Kedar Trek, you can capture a fascinating view of the plethora of temples it houses. A wide variety of flora and fauna also exists here. You can also choose to trek the route that leads to Kedarnath. Start this trip from Gaurikund. During your tour, you can catch a glimpse of the Chaukhamba peak. Other trek routes in Uttaranchal include Gangotri-Kedarnath trek, Agoda-Dodi trek and Gangotri-Tapovan trek.  


Pack your bags and hit the road. Come to Uttaranchal and experience excitement like never before.
Powered by SOFTTIX