Home » Destinations » Himachal Pradesh
Himachal Pradesh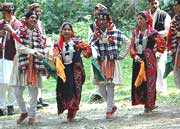 Himachal Pradesh in India is covered with snow during maximum time of the year. Natural beauty exists in its best form in Himachal Pradesh. Mountains covered with conifers, calm valleys with blue waters and Swiss summer cottages contribute in making Himachal Pradesh a picturesque destination.
Himachal Pradesh houses several hill stations that are quite cool during the summers. Shimla, the capital of Himachal Pradesh in one such hill station. This tranquil place is a perfect setting for a romantic holiday. The stunning bungalows and shops in stone dot the landscape of the place. The others are namely Dalhousie, Kasauli, Chail, Manali, Kullu and Kufri. Hold your breath as these hill stations offer several majestic sceneries.
While you are in Himachal Pradesh, Dharmashala is a must-visit. The Dalai Lama lives in this part of Himachal Pradesh. The Brajeshwari Devi temple located in the town of Kangra is an important shrine and a great crowd puller. Yet another prominent tourist attraction is Jwalamukhi temple. It is at a distance of 30 kilometres from Kangra. The Kangra Museum must also be seen as it houses an extraordinary art collection.
The residents of Himachal Pradesh are very simple. The population is an assortment of several tribes namely Gadis, Kinnauris, Gujaris, Rajputs, Lahulis and Pangwalis. The main languages spoken in Himachal Pradesh are Hindi and Pahari. Out of the total population that exists in Himachal Pradesh, only 10 percent is urban.
The rich culture that existed in Himachal Pradesh during the yesteryears still remains intact. Throughout the year, the Himachalis are immersed in the spirit of joy that the fairs and festivals bring along. Himachal is packed with ample opportunities for conducting adventure sports such as trekking, fishing, skiing and golfing. The cuisine of Himachal Pradesh is unique in itself. The influence of flavours from Punjab and Tibet (its neighbouring states) is evident from the food.
While you are in Himachal Pradesh , buy exquisite handicrafts it is famous for. Designed shawls of Kinnaur, Chamba's exclusive embroidered handkerchiefs and Kullu's woollen caps are quite famous. Kangra Valley School of Painting is also very popular for its beautiful paintings.
The summers are not extremely hot in Himachal bit the winter season is extremely chilly accompanied with heavy rainfall. The ideal time  to visit Himachal Pradesh lies between middle of May and the middle of October.
Kullu, which is 23 kilometres off Himachal Pradesh is the nearest airport. Kalka which is 90 kilometres off Himachal Pradesh is the nearest railway station. Himachal Pradesh is connected to the other major states and cities of North India through a well-developed network of roads.
Adventure Sports in Himachal Pradesh:
Powered by SOFTTIX