Home » Adventure Sports » Trekking » Trekking in Himalayas
Trekking in Himalayas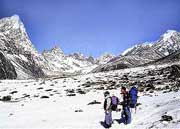 The Himalayas are packed with several opportunities of trekking that catapult a horde of tourists every year. These trekking options enable you to witness not only the natural beauty of the mountain range but also the unparalleled and unique culture that exists there. Throughout the width of the Indian Himalayas are scattered the options for trekking. All you have to do is choose your pick!




Ladakh

Several different trekking options are available in Ladakh. You can choose the one that suits your interest and preference. Some treks in Ladakh are short routes while the others include walking all day long. There are even longer treks that are extremely interesting.




Walk along the mountain slopes and camp amidst the barren landscape of Ladakh. The trek route starting from  Lamayuru in the Indus valley and ending at Darcha in Lahaul via Zanskar range is a popular high altitude trek. This trek takes a total of about three weeks to complete. Maximum number of trekking routes in Ladakh pass through Zanskar. Other famous trek tours that Ladakh offers to the adventure lovers Lamayuru-Padum trek and Stok-Khangri trek.




Himachal Pradesh

Himachal Pradesh houses over 270 trekking trails. Each one is unique from the other one providing an unforgettable experience. While you trek, you move on from a snow-clad mountain to cold deserts, from thickly wooded forests to a completely new appearance and so on. Once you indulge in trekking in Himachal Pradesh, you will be taken to different countryside. Experiencing a host of vast variations will actually be exciting.




The most famous sites for trekking in Himachal Pradesh include Dhauladhar and Pir Panjal mountain ranges. Then there are trails near Shimla and Kullu Valley. There are innumerable treks in near vicinity from Kullu. The Trans-Himalayan region including Lahaul, Kinnaur and Spiti are ideally suited for trekking.




Uttaranchal

The Kumaon and Garhwal regions in Uttaranchal with their breathtaking beauty and snow-clad mountains have catapult numerous generations to this place. Nanda Devi, the crowning glory of Garhwal and other majestic peaks namely Trishul and Kamet serve as excellent areas for trekking.




Sikkim

Plan your routes before you indulge in trekking in Sikkim. Itineraries that are already made can be taken from the reputed travel agencies or from the Tourism Department of Sikkim. You can follow your own routes in case you wish too.


Some of the popular routes for trekking in Sikkim include the Kanchenjunga trek that allows you to view the natural environs of Sikkim at its best. The calm lakes present in this route are an addition to the excitement of the adventure. Yet another route to Bakhim is all lively with a variety of flowers. Dzongri is another trek route from the top of which you can see the Kanchenjunga. Yumthang is an extremely beautiful trek route. You can also choose to trek in the wild forests of the Himalayas. Yoksum, Versary, Namchi,  Tendong Hill, Guicha La and Singalila are other trekking places to consider in Sikkim.
Powered by SOFTTIX