Home » Adventure Sports » Biking » Biking in Himachal Pradesh
Biking in Himachal Pradesh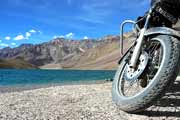 The geographical diversity that exists in Himachal Pradesh can be seen at a very few sites across the globe. Surrounded by the mighty Himalayas, Himachal Pradesh is blessed and bestowed with unlimited natural beauty. Wide valleys, snow covered mountain peaks, calm lakes, low hills, gushing rivers and streams fascinate you immensely. Himachal Pradesh offers a wide variety of the adventure sports for the adventure enthusiasts from all over the world. The beauty of the place can lure even the most seasoned traveller to indulge in adventure sports in Himachal Pradesh.




One of the most delightful adventure sports conducted in Himachal Pradesh is mountain biking. The weather, the track, the distances and the hills together make Himachal biking unique in itself.
Biking in Himachal has to be the main attraction of your adventure tour to the state. Amongst the best of biking in India that is offered to the holiday makers and the adventure seekers is the Himachal biking. Himachal Pradesh is so vast that even if you bike for a week, you will not be able to see the whole of it. The route that you cover while biking in the Himachal is so long that it enables you to observe the best of Himachal. From coniferous forests to mountains ranges of Spiti, Pangi and Lahaul, explore all the marvels that dot the land of Himachal.


You will surely return with fond memories of biking if you make it the main focus on your adventure tour to Himachal. After biking in the Himachal you will agree to the fact that such an opportunity for adventure activities is rare. Do not miss Himachal mountain biking while you are there. For a complete feel you can combine biking with trekking or skiing.
Powered by SOFTTIX