Home » Adventure Sports » Mountaineering » Mountaineering in Uttranchal
Mountaineering in Uttranchal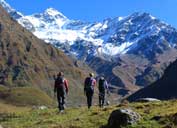 Uttaranchal is one of those picturesque states of India that catapults hordes of tourists and adventure lovers throughout the year. Over the years, Uttaranchal has become quite a popular centre for adventure tourism. The options for various adventure available in Uttaranchal are enough to spice up your tour to the state. Out of all the adventure sports in Uttaranchal, mountaineering tops the the popularity charts. Mountaineering in Uttaranchal is a wonderful experience.
The Himalayan ranges of Uttaranchal are just the perfect ones to go for a mountaineering expedition. Since Himalayas offer several ranges for the purpose of mountaineering, the mountaineer can take their pick depending on their choice. Almost all sorts of mountaineering expeditions ranging from simpler to the difficult ones are offered by the Himalayan ranges. You can accomplish mountaineering outings ranging from an altitude of 3000 metres to 7000 metres out here in Uttaranchal.
Apart from the Himalayan range, several places that fall in regions of Kumaon and Garhwal are ideal for conducting mountaineering. While you are in the Garhwal region, opt for the route that leads to Panch Kedar. Catch a glimpse of the rich flora and fauna of this trek and experience the warm hospitality of the residents. You can also get some lessons on mountaineering here.
Yet another popular is the one that leads to Kedarnath - Vasuki. Talking of the region of Kumaon, Pithoragarh is a famous place that offers some ideal sites for mountaineering.
Hurry! Hit the road and reach Uttaranchal where the majestic hills are waiting to be climbed on. You will surely have a great time while mountaineering in Uttaranchal. Do not think about anything else you will miss out on the excitement that can only be felt and not explained.
Powered by SOFTTIX