Home » Destinations » Sikkim
Sikkim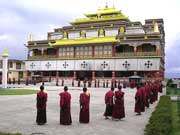 Be a part of the unique culture, a rich history, colourful festivals and on-going traditions while you are in Sikkim, India. You will feel as if you have entered a new world altogether which is situated at a great height. The monasteries and the ancient stupas that dominate the landscape of Sikkim are amongst its major attractions. A tranquil and peaceful aura fills the state. People follow simple monastic life. Celebrations and festivals add a splash of colour to Sikkim.
Sikkim – the land of Lama can be best explored while trekking through its routes. Climb up the mountains to see an entirely new world dominated by the presence of butterflies, rhododendrons, red panda and musk deer. Not only nature lovers but animal lovers will also love to be here in Sikkim. The ideal time to visit Sikkim falls between March till June and then from September till December.
Spend an evening in the rural areas with the visitors with the villagers. Listen to the myths and stories relating to the mountain Khanchendzonga while you have a glass of the local drink 'Chhnag', made of fermented millets. While you are amidst the residents, you will make out that the Sikkimese are quite warm and hospitable. Observe the extraordinary culture they follow and the deep religious beliefs they believe in. A close look at the lifestyle of the locals will help you distinguish between a Nepali, a Lepcha and a Bhutia that otherwise interwind in an perfect blend.
While you are in Sikkim, visit the Temi Tree Gardens, the only tea estate in the state. Top quality teas are produced in this tea garden. A beautiful view of the villages in vicinity is available from here.
Not to forget the mention of a shopping spree in Sikkim. The woollen carpets woven out of pure sheep wool and coloured in Sikkimese dyes are must buys in Sikkim. Objects of Tibetian Art like religious scrolls and canvas wall hangings are available at the Government Institute of Cottage Industry in Gangtok beautify the interiors of each and every house. And how can you miss to take along the very famous Sikkim Tea known for its rich flavour and exotic taste.
Adventure Sports in Sikkim:
Powered by SOFTTIX