Home » Adventure Sports » Rafting » Rafting in Rishikesh
Rafting in Rishikesh - Pursue your Passion for Adventure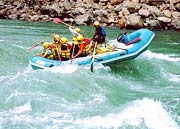 How about discovering the natural euphoria in the banks of Ganges? Well, this exciting opportunity comes with rafting in Rishikesh. Lying at the foothills of Himalayas is a favourite among rafting enthusiasts. Owing to its enchanting scenery, the place beckons horde of tourists to take delight in an adventure holiday in India.
The high mountains coupled with free-flowing rivers invite water sport fans from all across the world.
River Rafting is one of the most exciting adventures in Rishikesh. It is very scary and risky at times, depending on how you perceive the entire concept. Tourists and adventure enthusiasts can plan a camping out in the nature as a part of their river rafting travel in Rishikesh.
Following are the popular River rafting points in Rishikesh.
Bhrampuri
Marine-drive
Nim beach
Shivpuri
Kaudiyala
Byasi
Rafting in Rishikesh cannot be enjoyed during rainy season as it is considered unsafe due to flood. The rainy season starts around November and lasts till March. Best time to enjoy rafting in Rishikesh is from March to May and September to November.
River rafting can be wonderful for adrenaline crazy travellers. Tourists can try different levels of rapids, depending on their rafting skills.
Levels of Rapids
Grade 1- It is the easiest rapids with small waves and is considered best if you are a beginner.
Grade 2- Offering clear passages, these rapids are moderately difficult.
Grade 3- With irregular waves, these are difficult.
Grade 4- If you choose them, then dare to face the fast currents as this is irregular rapids.
Grade 5 – Being congested, these are violent ones. Considered as the most difficult rapids, this is recommended for professionals only.
Staying in rafting camps on your tour to Rishikesh is a good option. These are well-equipped with all the modern rafting gears to ensure a safe rafting experience. The rafting camps in Rishikesh are in opulence.
Get ready to face the roaring rapids on water rafting in Rishikesh with India adventure tour!
Powered by SOFTTIX