Home » Adventure Sports » Water Sports » Water Sports in Himachal Pradesh
Water Sports in Himachal Pradesh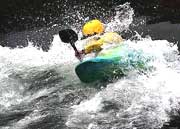 Surrounded by the snow-clad Himalayan mountain ranges and equipped with a number of rivers which have contributed a lot in increasing the tourist potential to Himachal Pradesh. Activities like water skiing, rowing, surfing, sailing and canoeing are all possible in here. A trip to Himachal Pradesh will definitely elevate your spirits as the state is packed with a number of options for entertainment and adventure sports.
One of the major tourist attraction that catapults a horde of tourists to Himachal Pradesh are the water and river sports opportunities that are available here. The most ideal opportunities for indulging in river and water sports activities in Himachal Pradesh are offered by River Satluj near Shimla, River Chenab in Lahaul, River Beas near Kullu and River Ravi near Chamba.
Your adrenalin will gush through each vein in case you accept the challenge offered by the intense rapids of the water bodies in Himachal. It is great fun to race over your raft through the gushing waters of the river rapids. Several adventure lovers come to Himachal for experiencing the thrill that one feels while river-rafting or white-water rafting. During the extremely chilly months as well as the monsoon season, the sport takes a break.
Powered by SOFTTIX