Home » Adventure Sports » Trekking » Trekking in Gulmarg
Trekking in Gulmarg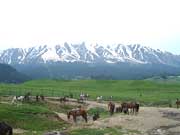 The beautiful hill station, Gulmarg meaning "Meadow of Flowers", housing in the state of Jammu and Kashmir has become a hot spot for the adventure enthusiasts and tourists across the globe. For over several years now, Gulmarg has been able to catapult several adventure seekers.




Way back in the 19th century, the British discovered Gulmarg as a tourist place. Before this discovery, the area was vacationed by the Mughal emperors.




The northern Pir Panjal Range in Gulmarg is an ideal place for trekking. At an altitude of approximately 1,500 feet above the hillside dominated by forests, the Nanga Parbat is visible from a number of view points. While you are at a distance, the Pir Panjal Range seems to be rounded. But when you are walking up the slopes the view is entirely different from what is appears from a distance. While you trek, you will observe that the smooth peaks of the hills rise above the slopes dominated by evergreen forests. The steepness of these peaks appears to be equal like those of the Himalayas.




Yet another place to trek in Gulmarg is the peak of Apharwat. It is situated at an altitude of  13,592-feet and is very close to the Line of Control. Thus, before you set out for a trek seek the permission from the tourist office in Gulmarg. You can also go for pleasant trek towards the south of Gulmarg.




Climb up the Ferozepur Nala. Go beyond to explore the hamlets of Tejjan, Danwas and then walk over to Samaidan. You will need someone's assistance to move forward as the route is intersected by several stock trails. Try a walk from Gulmarg upto Tosamaidan. On your way back, walk across Riyar and Khag villages. You may also choose to trek towards the Sunset Peak, thereafter, entering into the foothills of the Romushi Nala that leads to Yusmarg.


Come to enjoy a summer retreat in Gulmarg far from the scorching heat of the plains. The destination serves an ideal base for trekking. Lose yourself in the

legendary beauty of the mighty mountains

of Gulmarg.
Powered by SOFTTIX