Home » Adventure Sports » Camping » Camping in Himachal Pradesh
Camping in Himachal Pradesh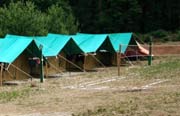 The geographical diversity that exists in Himachal Pradesh can be seen at a very few sites across the globe. Surrounded by the mighty Himalayas, Himachal Pradesh is blessed and bestowed with unlimited natural beauty. Wide valleys, snow covered mountain peaks, calm lakes, low hills, gushing rivers and streams will fascinate you immensely. Himachal Pradesh offers a wide variety of the adventure sports for the adventure enthusiasts from all over the world. The beauty of the place can lure even the most seasoned traveller to indulge in adventure sports in Himachal Pradesh.




In case you are tired of your daily chores and routines, take a break. Escape from the hustle bustle of the city life and reconnect all over again with nature. Come to Himachal Pradesh to experience natural beauty and serenity at its best. The best way that brings you the closest to nature is Camping in Himachal Pradesh.


While you are in Himachal Pradesh, the trip will remain incomplete if you do not experience camping here. The

village of Chail

in Himachal Pradesh serves to be its most famous camping destination. Enjoy camping amidst the lush green valleys and the snow-clad mountains. Activities of camping can also be performed at several other places apart from Chail. The important ones to name include Triund and Beas Kund.
Powered by SOFTTIX