Home » Adventure Sports » Fishing » Fishing in Himachal Pradesh
Fishing in Himachal Pradesh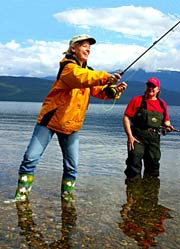 Angling and fishing are developing fast as an adventure sport in India. The state of Himachal Pradesh is coming forth as a prime Indian destination for angling. Angling is also a form of fishing, often related with terms like recreational fishing and sport fishing. Angling in Himachal Pradesh is a superb experience.




The streams that offer opportunities for angling and fishing in Himachal Pradesh are of two types – general water and trout water streams. Trout and Mahseer are amongst the most prominent fishes in these streams. Certain other varieties of fishes can also be seen here. These include Nemacheilus spp, Glyptothorax spp., Barilus sp, Schizothoracids Crossocheilus sp, etc. Himachal Pradesh is an paradise for the anglers. It houses various spots for fishing the prominent fishes found here. The best of the world's sport fishes namely brown and Rainbow trout can also be seen here.




Several spots that are ideal for angling and fishing are offered by Rohru in Shimla. Then there is Chirgaon and some other nearby sites namely Seema, Tikri, Sandasu, Mandil and Dhamvari that are ideally suited for angling. Rivers near Barot, the UHL river and Baspa river are excellent spots for conducting angling. Fine opportunities for angling are also provided by the River Beas and its side streams, Kangra Valley and River Giri.


Nominal fees is charged from the tourists who perform angling here. The best time to indulge in trout fishing starts in the month of March and ends in April while for Mahaseer fishing January to April and then September to December are the ideal months.
Powered by SOFTTIX