Home » Adventure Sports » Mountaineering » Mountaineering in Ladakh
Mountaineering in Ladakh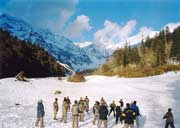 With several mountain peaks dominating the landscape, Ladakh serves as a paradise for the adventure lovers, specially those who are fond of mountaineering. The ever challenging adventurous sport becomes even more challenging when conducted amidst the snow-capped peaks of Ladakh. Those who are strong not only physically but mentally too can dare to climb these mountains. Only dare devils can think of conquering the lofty peaks in Ladakh.




Before you decide to climb on any of the peaks, make sure that you review and study the weather conditions that prevail there properly. You need to be extremely fit in case you want to perform mountaineering in Ladakh. The whole trip may range from one week to as long as three weeks. The best time to indulge in mountaineering in Ladakh ranges from June to September. It is only during these months when Ladakh is unaffected by monsoon that  holds sway for the rest of the year.




The most spectacular routes for mountaineering in Ladakh are offered by Zanskar and Suru Valley. Then there is Nun Kun Massif that serves to be the most popular and frequently climbed area in Ladakh. This area is so famous amongst the mountaineers that it is booked for months and sometimes for years ahead. It is the highest peak in Ladakh which is situated on the great Himalayan range at an altitude of 7,077 metres. In order to reach this peak, you will have to cover the Kargil-Padum road. You can also choose to approach the peak from Parkutse along the Kangri Glacier. Other important peaks in the Suru and Zanskar area include Pinnacle, D41, Z1 and White Needle.




Stok-khangri Massif

at a height of 6153 metres amidst the Zanskar mountains is yet another popular climbing area of Ladakh. Begin the journey from Stok village that will continue for two days. This expedition is a classic one. Thanks to the ethnic diversity spilled all though the route that is no less than a feast for the eyes of the mountaineer. Finally to reach upto Stok-khangri, you will have to cross three passes.

Ladakh is truly a delight for the mountaineers

.
Powered by SOFTTIX