Home » Destinations » Himachal Pradesh » Himalayan Motor Sports
Himalayan Motor Sports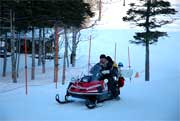 Be it in any form, whether a motor bike or a car or even on a cycle, the Himalayan Motor Sport in Himachal Pradesh is the best way to explore those facets of Himachal Pradesh that still lie hidden. Make the most out of your tour to this tranquil hill station while you drive your vehicle. Throughout the whole of the year, Himachal Pradesh is covered by a rich blanket of soft snow. This makes it a paradise for the adventure buffs.
The state personifies natural beauty in a way like no other Indian state does. The majestic Himalayan kingdom of Himachal Pradesh impresses one and all with its stunning sceneries that can be seen while you drive through the narrow and winding roads of the state. The experience of being in Himachal Pradesh will linger on and on long after your tour.
The best way to explore the places of tourist interest in and gain in depth details of the people and their lifestyle in Himachal Pradesh is the Himalayan Motor Sport in Himachal Pradesh. Hold you breath while you observe the picturesque sceneries offered by the hill stations in Himachal Pradesh namely Shimla, Kullu, Manali, Dalhousie and Kufri. Yet another important place to visit is the town where Dalai Lama resides, Dharamshala. Spare some time to see the major temples and museums in Himachal Pradesh.
Adventure Sports in Himachal Pradesh:
Powered by SOFTTIX