Home » Destinations » Gulmarg
Gulmarg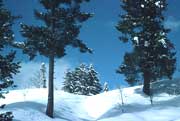 Gulmarg is one of the most beautiful hill resorts in India. Wild flowers that dot the grassy slopes cover the entire landscape of the place. A picturesque view of the Himalayas is visible from each and every corner of Gulmarg. The sight of the snow capped peaks, glaciers and fir woods in Gulmarg leave you speechless at the very first glimpse. It offers to be a real summer retreat for those who experience soaring temperature in the plains. Gulmarg is situated 57 kilometres off Srinagar at an altitude of 2,650 metres.
Gulmarg was fondly known as "Gaurimarg" by the shepherds here. It got its present name meaning "Meadow of Flowers" in the 16th century by Sultan Yousuf Shah of Kashmir. Gulmarg not only fascinated the tourists with its majesty but it also bowled over Jahangir, the Mughal Emperor, with its eternal beauty. On your way to Gulmarg, enjoy watching the extensive paddy fields encircled by poplar trees. Adorned with villages on one side and mountains on the other, Tangmarg is the last region before you enter Gulmarg.
Relax and get ready for the 11 kilometres of adventure packed hilly journey ahead at the parks and roadside restaurants on your way to Gulmarg. If you have time on you do capture the breathtaking sight of the snow capped mountains from the 'view point' and visit the shrine of Baba Rishi.
About 1300 feet higher from Gulmarg, Kangdori is filled with attractions such as Ningle Nallah, Strawberry Valley and Seven Springs. Enjoy the delicious aloo parantha followed by tea or coffee. Opt for an arduous trek on the Alpather mountainous lake.

One can indulge in a number of adventure sports in Gulmarg. Sledging, snow cycling, ski-bobbing and para gliding are some of the names to mention. The only ski resort with Heli-skiing facilities in the whole of Asia is present in Gulmarg. Pack your bags and come to Gulmarg to enjoy the hues of nature all round the year.
Adventure Sports in Gulmarg:
Powered by SOFTTIX