Home » Adventure Sports » Trekking » Trekking in Himachal Pradesh
Trekking in Himachal Pradesh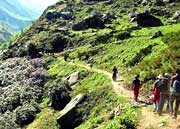 Lying in the foothills of the Himalayas, Himachal Pradesh is a beautiful and serene mountainous region. With altitudes as high as 6000 metres, the state serves to be hub for winter sports and other adventure activities. Himachal Pradesh is packed with a multitude of trekking options. Thanks to the diverse topography of the region that has made Himachal Pradesh a popular destination that offers adventure sports for its visitors.




Reconnect with nature through a tour to Himachal Pradesh. Most of the mountain ranges in Himachal Pradesh run parallel to each other. Thus, valleys are formed that serve ideal regions for conducting trekking. These are easy terrains that require you to walk gently while the others are difficult treks and long expeditions.




Above 270 trekking trails are defined in the state of Himachal. Each one is unique from the other one providing an unforgettable experience. While you trek, you move on from a snow-clad mountain to cold deserts, from thickly wooded forests to a completely new appearance and so on. Once you indulge in trekking in Himachal Pradesh, you will be taken to different countryside. Experiencing a host of vast variations will actually be exciting.


The most famous sites for trekking in Himachal Pradesh include

Dhauladhar

and

Pir Panjal

mountain ranges. Then there are trails near Shimla and Kullu Valley. There are innumerable treks in near vicinity from Kullu. The Trans-Himalayan region including Lahaul, Kinnaur and Spiti are ideally suited for trekking. Trekking in Himachal Pradesh is conducted by various travel agencies. Necessary equipments, route maps and guides are available for the trekkers at the starting point of the trekking route.
Powered by SOFTTIX