Home » Adventure Sports » Trekking » Trekking in Goa
Trekking in Goa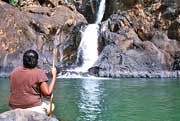 Driven by the call of adventure, come to Goa! Goa has much to offer that truly fascinates an adventure enthusiast. Apart from the water sports offered by calm and placid beaches, Goa also offers tough activities like trekking and hiking. Though these activities are physically demanding and extremely tiring but they are great fun too.




Trekking and hiking include a number of activities namely rock climbing, jummaring, rappelling and river crossing. Though rock climbing is an extremely difficult activity but with the development of new and better equipments the sport has become much safer and easier. Jummaring is climbing a rock with the help of a toothed metal clamp while rappelling is getting down the rock with the use of a rope and harness. Tyrolean traverse is yet another activity that exhilarates the tourists. Here you are suspended with the help of a rope over a water body and you have to crawl back on that rope. You are provided with safety equipments.




Your trekking in Goa begins from the lush green Sahyadris. Trekking in here is truly a delight. As you begin the journey and move on, every sight that comes your way will capture your heart. Get a close glimpse of nature while you are in places like Valpoi, Sanguem and Mollem.


The best time for trekking in Goa lies between

October to December

. Tourists generally trek over to the Dudhsagar waterfalls and climb at Kalen Rock in Sanguem. It is not mandatory that you follow the planned routes but you can make your own.
Powered by SOFTTIX