Home » Adventure Sports » Para Gliding » Para Gliding in Himachal Pradesh
Para Gliding in Himachal Pradesh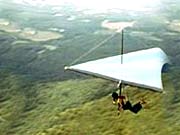 At some point in life, almost all of us dream of flying as high as a bird does. Elevate your spirits by sailing freely in the blue skies. Soar high above in the sky leaving behind all sorts of tensions and stress. All this and much more is offered by paragliding in Himachal Pradesh. Though the much exciting aero sport has recently been introduced in Himachal Pradesh, it has gained immense popularity in such a short period of time.
Paragliding is basically a blend of two sports, sky-diving and hang-gliding. While you para glide, you will able to dip and fly over the majestic hills and unexplored valleys of Himachal. Innumerable tourists who have experienced paragliding in Himachal have to say that it is a convenient, thrilling and a safe sport that allows you to fly high in the sky.
The main centre for paragliding in the state is Kangra Valley. The hot spots for enjoying paragliding at its best include Bir and Billing regions in Kangra. Other places in the state that offer the opportunity for paragliding are Bundla Dhar near Bilaspur and Intkali in Shimla.
Courses in Paragliding are offered by The Himachal Aero Adventure Institute in Bilaspur. Bilaspur in Himachal Pradesh will soon convert into a major paragliding site. While you are in Himachal Pradesh, do not worry even if you are a learner. Beginners here not only see the professional gliding but they glide along with them.
Several efforts have been made by the government of Himachal Pradesh so as to make this aero sport even more popular amongst the tourists. Every now and then, training programs for paragliding are arranged by the Himachal Tourism in various parts of the state. Professional instructors are also provided to ensure complete safety of the tourists.
Powered by SOFTTIX