Home » Adventure Sports » Trekking » Trekking in Sikkim
Trekking in Sikkim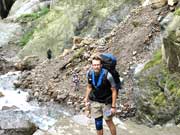 Trekking through the mountains in Sikkim encircled by thick forests and frosted water is awe-inspiring. The rigorous and tough treks offer quite an adventurous journey. While you trek, appreciate the charisma of the natural beauty of Sikkim. Come and unravel all this and much more that Sikkim has to offer. Watch the snow capped mountains, calm waters and a variety of flora and fauna that houses in Sikkim.




Plan your routes before you indulge in trekking. It is better to have a clear idea beforehand rather than being misled. Itineraries that are already made can be taken from the reputed travel agencies or from the Tourism Department of Sikkim. You can follow your own routes in case you wish too. Plan them keeping in mind the weather and elevation. If you are a beginner, go for treks that stretch upto 14,000 feet. Mid-February to May and October to mid-December is the ideal time to indulge in trekking in Sikkim.


Some of the popular routes for trekking in Sikkim include the

Kanchenjunga

trek that allows you to view the natural environs of Sikkim at its best. The calm lakes present in this route are an addition to the excitement of the adventure. Yet another route to Bakhim is all lively with a variety of flowers.

Dzongri

is another trek route from the top of which you can see the Kanchenjunga. Yumthang is an extremely beautiful trek route. You can also choose to trek in the wild forests of the Himalayas. Yoksum, Versary, Damthang, Namchi,  Tendong Hill, Maenam Hill, Guicha La and Singalila are other trekking places to consider in Sikkim.
Powered by SOFTTIX