Home » Destinations » Jaisalmer
Jaisalmer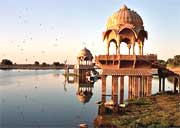 Welcome to the Golden City of Rajasthan – Jaisalmer. The picture perfect city of Rajasthan fascinates even the the most seasoned traveller with its majesty. What to say of the magnificent forts, shifting sand dunes and impressive havelis that dot the sun kissed sands of the city.
For years now, Jaisalmer has become a hot spot for the tourists from far and wide. The Jaisalmer Fort that radiates a golden hue catapults hordes of tourists to this city of Rajasthan. Jaisalmer is famous for its wonderfully built and decorated havelis. Just a view of the Jain Temples in Jaisalmer spellbounds the onlooker.
There is a vast scope for shopping in Jaisalmer. Visit Rajmahal while you shop for embroidery and mirror work. Pick some exquisite handicrafts from Gandhi Chowk and bargain for woolen blankets at the Khadi Gramodyog Bhavan.
In the finest tradition of hospitality, Jaisalmer offers a luxurious and comfortable stay at the heritage hotels namely Hotel Fort Rajwada and Hotel Narain Niwas Palace. The city is packed with several other economy hotels. Jaisalmer has several eating joints. You can also choose to stay overnight in the camps. Experience a unique stay followed by a sumptuous dinner under the starry sky with folk music in the background.
Dig onto pizzas and pastas at Ristorabte Italiano La Purezza restaurant. For lip smacking dishes from Indian and international cuisines,step into Trio restaurant. Yet another place that amazes a foodie is the Rang Mahal Hotel that offers delicious Rajasthani dishes to its guests.
Regular flights are available from Jodhpur and Jaipur airports. Jaisalmer is connected to all the important cities and towns of India through express trains. Buses and taxis from Ajmer, Jaipur and Bikaner are available regularly.
Spend some great time amidst the mountain high sand dunes in Jaisalmer, Rajasthan and return back with fond memories that linger on and on...
Adventure Sports in Jaisalmer:
Powered by SOFTTIX