Home » Adventure Sports » Mountaineering » Mountaineering in Sikkim
Mountaineering in Sikkim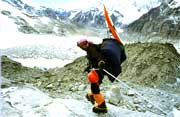 Sikkim boasts of the best mountains in the world. The mountains in Sikkim are immensely popular for their exquisiteness and splendour. The idea of mountaineering in amidst these majestic mountains is simply unbeatable. Sikkim offers you the best mountaineering expedition you would have ever experienced.




Mountaineering at a height of 8,585 metres with semi frozen river water gushing through is actually a thrilling experience. Overcome fear and do not let your spirits down. This opportunity should not be missed at any cost. The massive mountains shall grab all your senses and the sight will leave you mesmerized. Nothing can beat adventure in this form.




The ideal time to indulge in a mountaineering experience is during the months of March to May and then from September to November. Kanchenjunga, the third highest peak world wide, can also be a part of your mountaineering in Sikkim. The peak is considered to be the guardian deity of Sikkim.




There are several peaks in Sikkim where mountaineering can be conducted. Rahtong at an altitude of 22,000 feet has a number of peaks. Before you start mountaineering here, get the permits. Other peaks in Sikkim that stand at an altitude 24,000 feet and above are namely Jonsong, Tent and Talung. Other known peaks are Kabru, Chulior Kirat and Sinolchu.


Prior to indulging in mountaineering in Sikkim, several formalities have to be fulfilled.

Clearance from the Indian Mountaineering Federation is essential

. Once you get the clearance, pay royalty to the Government of Sikkim for those peaks that you wish to climb. Foreigners are accompanied by relationship officers from the Sikkim Mountaineering Association and the Indian Mountaineering Foundation.
Powered by SOFTTIX