Home » Adventure Sports » Rafting » Rafting in Sikkim
Rafting in Sikkim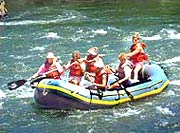 Imagine yourself struggling amidst the gushing icy cool waters of the river trying to row your raft. Just the thought of it is awe-inspiring. The exciting adventure that follows river rafting increases manifold because of the frosty watercourses and captivating splendour of Sikkim. Rafting on the torrents amidst the dense forests is an experience which is one of its own kind.




White water rafting has been introduced quite recently in Sikkim. The best and the most popular route for river rafting in Sikkim is offered by Teesta River and its tributary, Rangit. Rafting in the long stretches of the river is actually safe. Hold your breath while you row your raft through the extremely chilly rapids of Teesta River.




The ultimate pleasure of the sport is felt when you are drenched by the mild floats in the river waters. The route that you will follow while you raft through the river Teesta starts with Makha taking you to Sirwani, Bardang and finally to Rangpo. This rafting stretch in Sikkim is not only the best in the country but in the world too. If you an experienced rafter who wants to raft through the  quite turbulent waters, there exists no better option than Rangit. While you raft in Rangit, start off with Sikip, moving on to Jorethang, Majitar and eventually to Melli.


In case you are new to the sport, this is the right time when you should go for it. Special arrangements are made for the beginners and learners by the tourist department that enable you to grab the techniques of rafting easily. In addition to this, if you need any sort of assistance, Tourism Department of Sikkim can be consulted. To

add to the spirit of adventure

you experience, stay overnight at the

beach camps

. There are several ideal campsites in Sikkim. Come to Sikkim to undergo an unique rafting experience.
Powered by SOFTTIX