Home » Destinations » Uttranchal
Uttranchal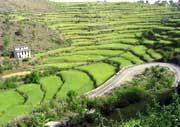 Snow-clad mountain peaks and gushing waterfalls welcome you to the land where natural beauty  bestows at its best. Uttaranchal in India, fondly known as "Devabhoomi" - the abode of the Gods reveals to its tourists the natural beauty of the place. The culture and customs followed by the residents of the state is rich and unique. The 14 hilly districts that earlier came under the state of Uttar Pradesh now fall under the newly constructed state of Uttaranchal.
Uttaranchal has emerged to be one of the most popular places of tourist interest in India. The destination is just the perfect for anyone, be it an adventure enthusiast or a newly wed couple. The matchless Indian state has a lot to offer for the holiday makers. Several impressive temples dot the landscape of this place. A tour to Uttaranchal is incomplete without a visit to these glorious temples.  
The nearest airport is located in the capital state of Uttaranchal – Dehradun. Dehradun is connected to all the major states and cities of India through regular flights. An efficient network of railways connects Uttaranchal to all the important places in India. Uttaranchal is connected to all the major cities and towns of India through a navigable network of roads.
The ideal time to visit Uttaranchal is during the summer season. The weather of the place is quite pleasant during the summer months, far better from the extremely hot weather in the plains. Severe landslides occur during the monsoons in Uttaranchal. So avoid visiting Uttaranchal during the rainy season of the year.
While you are in Uttaranchal, there are several options for different categories of hotels to choose from. Choose the one that suits your taste and pocket. Though the hotels in Uttaranchal are not luxury hotels yet they promise to provide you a comfortable stay with other basic amenities and good food at a reasonable price.
Shopping in Uttaranchal can be fun. An array of fascinating products are available in Uttaranchal. You can pick something from a variety of items in wood and different types of woollen articles. Come to one of the most scenic tourist destination in India - Uttaranchal and enjoy the most pleasurable holiday.
Adventure Sports in Uttranchal:
Powered by SOFTTIX