Home » Adventure Sports » Trekking » Trekking in Ladakh
Trekking in Ladakh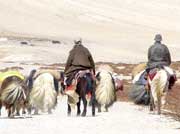 Fondly known as the Land of Mystic Lamas, Ladakh is surrounded by two mighty mountain ranges namely the Great Himalayas and the Karakoram. Not only the colourful gompas (Buddhist monasteries) in Ladakh have been successful in attracting the Buddhist followers and holiday makers from all over the world, but its challenging treks have also made their own contribution in the increasing the tourist potential. Rivers, sharp and snow-clad mountain peaks, small hills and wide plateaus dot the landscape of this cold desert region. Valleys namely Suru, Drass and Zanskar valley serve as ideal places to explore the interiors of Ladakh as well as the cultural lifestyle of people there that has remained unchanged for years.




Several different trekking options are available in Ladakh. You can choose the one that suits your interest and preference. Some treks in Ladakh are short routes while the others include walking all day long. Walk up and down the mountain slopes to explore the rural areas and monastic settlements in Ladakh. There are even longer treks that are extremely interesting. Walk along the mountain slopes and camp amidst the barren landscape of Ladakh. The trek route starting from  Lamayuru in the Indus valley and ending at Darcha in Lahaul via Zanskar range is a popular high altitude trek. This trek takes a total of about three weeks to complete. Maximum number of trekking routes in Ladakh pass through Zanskar. 


Other famous trek tours that Ladakh offers to the adventure lovers

Lamayuru-Padum trek

and

Stok-Khangri trek

. These trek tours last for about 10 days. It has been quite recent that regions falling between the Shayok and Indus valley in Ladakh have also become ideal trek routes for the trekkers. All of these far famed routes are thrilling as well as interesting. While you trek appreciate the rural areas of Ladakh that still hold the sheer beauty of the place.
Powered by SOFTTIX