Home » Adventure Sports » Camping » Camping in Uttranchal
Camping in Uttranchal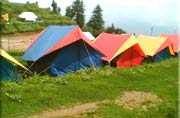 The best way to enjoy the serene nature with family and friends in Uttaranchal is Camping. Come to Uttaranchal to spend some quality time within the lap of nature, far away from the hustle bustle of the city life. A fantastic range of camping options is offered  by the Himalayan area in Uttaranchal, India.




Thanks to the diverse Indian topography that makes it possible for India to offer the adventure seekers options ranging from simple camping to wildlife camping. This recreational activity does not restrict itself to a particular age group. All those who love nature can go for this expedition. Some of the popular sights that serve as a base for camping in Uttaranchal are namely
the Tons Valley in Garhwal, Jharipani in Mussoorie and other high altitude camping places.




Tons Valley in Garhwal

Located at an altitude of 3,600 feet, the tons valley is an ideal gateway for camping. Whether you are a quiet holiday-maker or a complete adventure buff, you will enjoy camping in the tons valley in Garhwal. Enjoy observing the diverse flora and fauna that exists around this region. Deodar, oak, pine, chestnut, alpine, jamun, rhododendron and birch dot the landscape of the area. While you camp, you can enjoy activities like angling, white water rafting and relaxing walks. The history and culture of the tons valley is extremely unique. The social customs that the inhabitants follow here are different from the rest of Gharwal.




Jharipani in Mussoorie

Jharipani in Mussoorie is located on a hilltop. Exclusively made for nature lovers, the place is far from the chaos of the city. You can enjoy your stay in the swiss tents that have an attached bath and terraces with sitouts. Watch the Doon Valley during the day and the twinkling stars during the night. During the days of the past, the Jharipani served as a guest house. It was later on passed to the Maharajas of Patiala. A great place for camping at present, Jharipani is known for the home cooked food and the warm hospitality it extends. It is truly a home away from home. Apart from the cool mountain breeze, enjoy the adventure sports such as horse safari, trekking and paragliding nearby your camp.


Apart from these, Uttaranchal also provides you with opportunities of

camping at high altitudes

. It is the best way to beat the heat that prevails in the plains. Rush to the high altitudes during the months from May to June when the weather here is immensely pleasant. You will have to come here to believe it. You can fit in your own temporary tents or enjoy a comfortable sty in the permanent camps. These spacious camps provide a stay that you will never forget. In case you are an adventure freak, try out night treks and rock climbing that will make your stay even more excitement.
Powered by SOFTTIX