Home » Adventure Sports » Biking » Biking in Uttranchal
Biking in Uttaranchal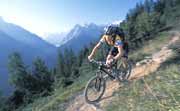 If you are looking for an extra bit of adventure, Uttaranchal is the perfect destination for you. Uttaranchal is a haven for paddlers and trekkers alike. From introductory biking to difficult challenges, the regions of Uttaranchal have something to offer for everyone. The Garwal and Kumaon regions are ideal places for exploring exotic sights while biking.




On your biking adventure trip to Garhwal, you will come across some best biking escapades that will make your biking trip more interesting than ever. Biking over the rugged terrains is not as easy as it seems. You need to be really fit in case you want to indulge in the sport. Your balancing act should also be good so that you can easily climb the steep pitches. Climbing uphill is more thrilling than riding downhill. Mountain biking in Garhwal region of Uttaranchal is fun.


The flat valleys situated in the Almora district of Kumaon region are perfect biking tracks. While you bike observe the open valleys, the serene rivers, small towns and some rural areas.

Begin your trip form Bageshwar

that houses a temple dedicated to Lord Baijnath. Also bike through the Binsar wildlife sanctuary covered by a dense forest cover of Oak trees. Watch animals in their natural habitat. The breathtaking views of the place will bowl you over.
Powered by SOFTTIX