Home » Adventure Sports » Water Sports » Water Sports in Uttranchal
Water Sports in Uttaranchal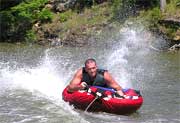 If land adventures could not satisfy your thirst for adventure, come to Uttaranchal where several water sports are waiting to be explored. As a matter of fact, Uttaranchal is a paradise for water sports enthusiast. Here you have several options to choose from such as Canoeing, Kayaking and Rafting. The meandering rivers invite you to set out on a different journey altogether. Are you ready?




Canoeing and Kayaking in Uttarakhand




Seeking adventure? Come to Uttarakhand. How adventurous the pleasure of canoeing or Kayaking on the calm waters on a lake is! Uttarakhand in Uttranchal provides amazing opportunity for canoeing and kayaking. In Utrakhand, the hot destinations for these water sports are Rishikesh, Dakpathar and the Ramganga in Corbett National Park. For the best experience you must embark on your adventurous journey at the stage near the river's entry into the plains. If your thirst for adventure is more then go for kayaking rather than canoeing. But be careful as you might face some difficulty due to river gradient and its rapids. Canoeing and Kayaking both will bring you very close to nature.




Water Rafting:

The wild waters of the rivers of Uttranchal entice many a tourists for taking up the challenge of water rafting. The thrill of fighting with silvery white rapids is an adventurous experience.

Garhwal and Kumaon are the best places for pursuing water rafting

. Several rivers flows through these destinations offering amazing rafting opportunities and facilities.
Powered by SOFTTIX