Home » Adventure Sports » Canoing » Canoing in Uttranchal
Canoing in Uttranchal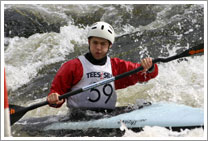 The rivers and lakes in the north and the sand beaches along the coastline offer an ideal opportunity to the adventure lovers for conducting water sports. Canoeing is one of the most interesting water sport that combines excitement with exploration. While canoeing, you paddle the boat through  offshore islands, marine stocks and bewildering sea caves.




It is an eco-friendly adventure sport. Canoes are designed with conical ends so that they can be easily glided through the river waters. The unique design that makes the operation of a canoe much easy in the waters has led to trying these on most of the types of water bodies. A canoe can accommodate a minimum of two people. Canoeing is generally done over rivers and lakes with still and flat waters.




One of the major canoeing destinations in India is Uttaranchal. It offers excellent quality canoes to those who dare to go for it. Those are entirely new to the sport are accompanied by expert instructors. Canoeing in Uttaranchal also combines moderate hiking with it.




Some of the best sites for canoeing in Uttaranchal include Lake Renuka along the Uttaranchal border, areas in Rishikesh and Dakpathar, lakes of Nainital and Saat Tal and Ramganga in Corbett National Park. Yet another place is the Tehri Dam of Tehri in Uttaranchal. This dam is pegged to be an ideal spot for canoeing not only in the country but in the entire sub-continent as a whole.


The excitement that follows shall increase manifold in case you figure out what you expect from the trip. Before you go out for canoeing learn about water levels, water rapids and also about canoeists. The sport

attracts several travellers from abroad as well as domestic holiday makers to Uttaranchal

who come to enjoy canoeing amidst the flat and serene rivers.
Powered by SOFTTIX