Home » Adventure Sports » Para Gliding » Para Gliding in Uttranchal
Paragliding in Uttranchal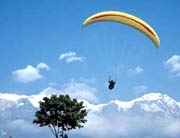 Natural beauty co-exists with spirituality only in one Indian state – Uttaranchal. A blend of high snow-clad mountains with rich tradition and customs catapults a horde of tourists to this state. Adventure activities like paragliding, skiing and rafting can ideally be conducted amidst the high peaks and valleys of Uttaranchal. An adventure tour to Uttaranchal will definitely be an interesting holiday that will keep the adventure seekers on their toes.




If you are one of those who dream to fly high in the sky like a free bird, you can fulfill your dream by paragliding in Uttaranchal. Paragliding in Uttaranchal will enable you to get a beautiful aerial view of the state. Get over the fear of height and get ready to paraglide. It will be an experience that you will cherish all through your life. The limitless freedom observed in the open sky is the most thrilling aspect of the aero sport.




Paragliding is a sport that is different from parasailing. In order to begin with paragliding, the gliders start off from the hill side. Paragliding conducted in Uttaranchal is not motorized. If you are a beginner, not to worry. Professional trainers are available that will teach you the skills required to perform the sport. You can also enjoy the sport at its best in the paragliding clubs in Uttaranchal. Here you can learn in case you are a beginner or you can polish your skills further if you are a professional.


All the necessary equipments and safety measures are provided by the officials of the paragliding clubs. This enables you to enjoy the sport thoroughly. Some of the

popular sites

for paragliding in Uttaranchal include Naukutchhiyatal in Nainital, Bedni Bugyal in Kumaon, Pratap Nagar, Dayar Bugyal and Dhanolti Ridge in Garhwal.
Powered by SOFTTIX