Home » Adventure Sports » Camping » Camping in Jaisalmer
Camping in Jaisalmer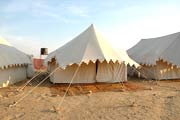 In case you are the one who thinks that camping is possible only amidst the tranquil Himalayas and the majestic Ghats. You need to think again. Jaisalmer in Rajasthan provides ample opportunities for camping onto the vast expanse of the sun-kissed sands. The stillness of the place shall garb your senses. The golden layers of the sand upon which the Rajputs once walked are blown off by the winds. Confront the Thar from a unique perspective this time.




If you are the one looking for a staying option so as to explore the unexplored facets of Jaisalmer in Rajasthan, then camping is the best available option. Camping in the dune-decked terrain – Jaisalmer is truly an experience of a lifetime. Fix the tents amidst the Sam Sand Dunes (42 kilometers off) and Khuri Sand Dunes. History comes alive all over again as living in tents recreates an environment of the bygone era.




Experience a lavish and unique stay amidst the barren sands in a comfortable camp. You can either choose to fix a temporary camp of your own or you also have the option of staying in an already tented camp. Such camps are present on every little step in Jaisalmer. These camps are created by agents and equipped with all the modern amenities. They house bedrooms with attached baths, camp cots and have kitchen staff to take care of the food.




Flavorful Rajasthani dishes to perfect entertainment, all is a part of the camping in Jaisalmer. Rajasthani hospitality can be seen at its best during the camps organized in Rajasthan. Camping offers an opportunity have a close look into the vibrant lifestyle of the Rajasthanis and return back with memories of the one of the best times of life.


Nothing better than planning a camp during the festive season in Jaisalmer. The excitement of camping shall increase manifold with camps organized in the fair ground.

Wake up with tunes of 'sarangi' in the morning while sleep with sweet sounds of 'ghungroo' in your ears

. Watch closely the colourful stalls in the fair ground, buy a beautiful embroidered 'dupatta', paint your palms all orange with henna and enjoy the folk music and dance around the bonfire. You will surely be swayed away by the

rhythmical synergy

that echoes far and loud in Jaisalmer, Rajasthan.
Powered by SOFTTIX