Home » Adventure Sports » Camping » Camping in Ladakh
Camping in Ladakh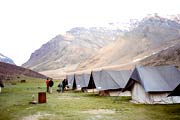 The mere mention of the heavenly destination Ladakh conjures up images of snow-capped huge mountains, picture-perfect scenery, lush green vegetation. Which in turn give a sense of being one with the Almighty through his incredible creation. And the best way to experience adventure cocooned in the perfect ambiance is—Camping in Ladakh. Ladhak is nestled between the Great Himalayas and the Karakoram. Tourists from across the globe throng in here for spending their holidays at the wonderful camping sites in Ladakh.




Break free from the monotonous life of the crowded cities and experience an experience at camps in Ladakh which you will cherish for the rest of your life. Just imagine what a recreational activity it is! It is no less than a dream wherein the land embraces the heavens and nature sings song in celebration of their union. In Ladakh various camps have been set up at different altitudes ranging from 2,750 m to 7,673 m. Rivers, hills, mist and greenery welcome you to these camps. Choose the one suitable for you.


The perfect option for camping in Ladakh is the

Silk Route Cottages, Nubra Valley

. It provides excellent camping facilities in Ladakh. It houses 12 huts and 5 Swiss cottage tents. So what are you waiting for? Pack your bags.
Powered by SOFTTIX