Home » Adventure Sports » Camping » Camping in Himalayas
Camping in Himalayas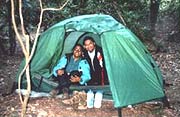 Camping in the Himalayas will make your holiday more exciting than ever. Add an additional touch of adventure to your normal vacation amidst the Himalayas. While you camp within the snow-clad mountains, appreciate the natural beauty that adorns every inch of the Himalayan range. Observe the priceless attraction that its small hills, gushing rivers and fresh aura offers. With every step you take, you will charmed by the glory of the place. Camping options are present in various parts of the state. Pick the one that suits your taste and pocket.




Basic facilities like lodging and food are available at the camps. Apart from these, facilities for indulging in activities like rafting, hiking and fishing are also available at these camps. Temporary Camps are organised at Sarchu in Lahaul by the Himachal Tourism while permanently built are built in Kinnaur and Spiti. Camps at Dalhousie and Kullu-Manali are run by the Youth Hostel Association of India. Then in some places like  Barog, Baspa, Kalpa, Dharamshala, Tabo, Baldian and Shoja camps are run by the private sector. Uttaranchal has some of the far-famed camping sites. These include Nainital, Rishikesh, Chilla, Corbett National Park and Chilla


You can also go for

wildlife camping

. It has no age restriction. All those who love animals can opt for this. You may also go for

weekend camping

where you travel you some of the nearby important places within a week.
Powered by SOFTTIX