Home » Adventure Sports » Camping in India
Camping in India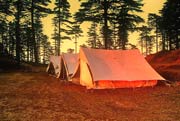 Stressed out? Want a break from the busy life of the city? Nothing works better than relaxing in the lap of nature. It serves as an ideal hide out far from the hustle bustle of the city. You will feel wonderful while you camp amidst the green environs, serene atmosphere and pleasant climate.




The Tourism Department has made provisions for several facilities that are made available to you during camping. Proper accommodation with attached baths, arrangements for food and recreation are provided when you visit a camping site. While you stay in the camps, spare some time to indulge in other adventure activities like fishing, rafting, hiking and nature tours. Either carry your own gears and equipments along to fix up the tent or choose to stay in tents that are pitched in several parts of the country.




Camping sites in India include places in Himachal Pradesh, Uttaranchal and the mighty Himalayas. Apart from the hilly areas, camping amidst the sand dunes in Jaisalmer is also a unique experience. Jaisalmer in Rajasthan provides ample opportunities for camping onto the vast expanse of the sun-kissed sands. The stillness of the place shall garb your senses. Explore through camping the beauty that lies hidden within the golden sands of the desert landscape.




Equipments

The basic equipment that you have to carry is a tent. Tents come in two shapes – 'A' shaped tent and cupola shaped tent. The 'A' shaped tents are recommended to be taken fr low altitude treks. Other gears required in camping include - Woollen Cap, Sun Screen Lotion, Swiss army Knife, Sun Glares, Torch and Socks stockings and Gloves which are 20 percent acrylic and rest woollen as they may otherwise shrink on getting wet. Also carry with you a camera or maybe binoculars so that you do not miss to observe anything that comes your way.




Tips

Alike other adventure-packed activities, several risks are involved with camping also. While you are heading for a camping destination, make sure that you carry along with you

a first-aid box

,

a bug repellant, a sunscreen lotion

and

a snakebite kit

. Carrying all of these is not enough. One should also know the proper way to use them so that the medical aid does not have to wait as and when required. In addition to these also make sure that you do not pack wet tents in your bag else they may decay and rot.
Powered by SOFTTIX