Home » Adventure Sports » Biking » Biking in Ladakh
Biking in Ladakh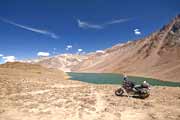 Far-famed for its natural beauty and varied topography, Ladakh offers an opportunity to indulge in several adventure sports like biking, mountaineering, rafting and trekking. Opportunities for local games like polo and archery also exist in Ladakh.




The numerous unspoiled areas in Ladakh make it an ideal destination for conducting mountain biking. These areas are the least explored ones because they are situated at quite a high altitude. These areas are not easily accessible and reachable. Therefore, they are less often visited by the usual holidaymakers and adventure enthusiasts.




Mountain biking in Ladakh is very exciting. The biking expedition that begins from Manali and ends at Leh offers several intricate challenges. The bikers have to cover a distance as long as 475 kilometres if they wish to cover this biking route. The route is ideal for biking with very light traffic. While biking, you will not encounter more than 10 vehicles on your way. Biking is allowed here from the period that lasts from the end of June till the beginning of October.


While you are in Ladakh, see its far-famed monasteries that are spread all over the landscape of the state. Your tour to Ladakh will remain incomplete without this. Donate for the welfare of the monastery while you visit them. Hemis and Lamayuru Monastery are the most famous ones in Ladakh.
Powered by SOFTTIX