Home » Adventure Sports » Biking » Biking in Sikkim
Biking in Sikkim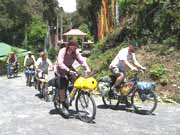 Bikes are something that make the youth go crazy. You must have definitely tried your biking skills on the road, but Sikkim has something interesting to offer for all of you. It is the extremely thrilling mountain biking, champs! It is an enticing adventure sport to try out. Biking in the rugged and rough terrains through the steep zones will tantalize you. Go for it in order to experience all this and much more.




Mountain biking has been introduced in Sikkim in recent years and it has received a heartening response of the tourists. The roads in Sikkim can handle the pressure of the solid tyres. Biking through the mountainous zone is what you call real adventure. It is believed that biking will very soon become the top most adventure sports in India.




In addition to this, Sikkim also boasts of the best mountains to ride on across the globe. Biking in the mountains in nonetheless an easy task. One has to be rather cautious, specially, when biking in an unfamiliar route. Bikes and other gears that are required are available from the tourism authorities of Sikkim.


Sikkim has some of the

popular biking routes

. If you follow the most popular route, you will begin right away from Gangtok moving on to Phodong, Rangrang, Dikchu and lastly to Singtam. Yet another route takes you from Gangtok to Lingdum, Martam, Rumtek, Makha, Singtam, Ravangla, Singchuthang, Dentam, Temi Tea Garden,  and ends at Sombarey. Another popular route in East Sikkim starts from Gangtok and takes you to Bhusuk, Rongli, Assam, Pakyong, Rorathang, Lingzey, Rhenock and finally to Aritar.
Powered by SOFTTIX