Home » Adventure Sports » Biking » Biking in Himalayas
Biking in Himalayas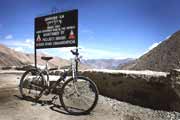 The most challenging sport that you would have ever indulged in is Biking in the Himalayas. Only those are absolutely in shape should go for this sport. The adventure activity is just the right for those who are rough and tough. Bike through the place to get an actual feel of the rich culture and the village life in the Himalayas. Experience the local flavour while you travel. The holiday will be such that will remain etched in your memory forever.
Come to Himalayas to indulge in an out of the world experience. Stretches from Jammu and Kashmir upto Himachal Pradesh, from Sikkim upto Arunachal Pradesh are ideally suited for mountain biking. Biking in the Himalayas is actually a joyful experience.
Ladakh
The cold desert of Ladakh has several options for biking. While planning to start off with biking in the Himalayas, there is no better option than Ladakh.
Himachal Pradesh
One of the most delightful adventure sports conducted in Himachal Pradesh is mountain biking. The weather, the track, the distances and the hills together make Himachal biking unique in itself.
Biking in Himachal has to be the main attraction of your adventure tour to the state. Amongst the best of biking in India that is offered to the holiday makers and the adventure seekers is the Himachal biking. Himachal Pradesh is so vast that even if you bike for a week, you will not be able to see the whole of it. The route that you cover while biking in the Himachal is so long that it enables you to observe the best of Himachal. From coniferous forests to mountains ranges of Spiti, Pangi and Lahaul, explore all the marvels that dot the land of Himachal.
Sikkim
Mountain biking has been introduced in Sikkim in recent years and it has received a heartening response of the tourists. Sikkim has the best mountains to ride on but this does not mean that biking in Sikkim is an easy task.
Sikkim has some of the popular biking routes. If you follow the most popular route, you will begin right away from Gangtok moving on to Phodong, Rangrang, Dikchu and lastly to Singtam. Yet another route takes you from Gangtok to Lingdum, Martam, Rumtek, Makha, Singtam, Ravangla, Singchuthang, Dentam, Temi Tea Garden,  and ends at Sombarey. Another popular route in East Sikkim starts from Gangtok and takes you to Bhusuk, Rongli, Assam, Pakyong, Rorathang, Lingzey, Rhenock and finally to Aritar.
Powered by SOFTTIX