Home » Adventure Sports » Biking
Biking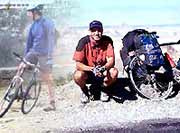 One of the most popular adventure sport in India is biking. The adventure activity is just the right for those who are rough and tough. Mountain biking courses that are offered in the Himalayas are full of fun. Bike through the place to get an actual feel of the rich culture and the village life in the Himalayas. Experience the local flavour while you travel. The holiday will be such that will remain etched in your memory forever.




In case you are looking forward to take up biking sport in India, you will be offered several facilities that will make the sport easy to perform. Facilities like getting custom clearance, booking of the ranges, making available transport services and cooking groups, arrangements for accommodation are provided to you. 




The adventure lovers will simply love performing biking. Biking in the mountains is quite a thrilling sport. Biking promises to offer to you an extraordinary drive irrespective of the fact whether you bike on a smooth or a tough terrain. You need to combine energy with aptitude in order to conquer the Himalayas through biking. If you are searching for some great downhills or hard climbs in order to double the amount of thrill, there exists no better choice than the mighty Himalayas. Indian Himalayan Ranges are the most ideal option for biking.




Tips

Biking in the mountains is one of the most adventurous of all the other adventure sports. Indulge in the riding experience so as to enjoy your tour at its best. You are advised to carry accurate and reliable maps so that you can follow the tailor made routes well. Do check the air pressure in the tyres, fuel tank of the vehicle you choose for biking. Make sure that its brakes and gears work properly. The most important point, a valid license and total experience in rally driving is required.




Equipments

If you are the one opting for a lot of biking in the mountains, make sure that your bikes have a low-gear ratio. Also see that the bikes you rent are equipped with front suspension. In addition to this, you are required to carry along at least 2 sets of bike clothing, helmet and gloves. Get bike shoes that are quite firm.
Powered by SOFTTIX