Home » Adventure Sports » Para Gliding » Para Gliding in Himalayas
Para Gliding in Himalayas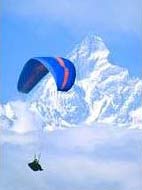 If you are driven by the call of adventure, come to the Himalayas. One of the best sites to fly across the globe is Bir-Billing that lies in the Indian Himalayas. The mountain range is itself 100 kilometres long and consists of peaks as high as 5,500 metres. While you paraglide you are often taken into the sphere of Himalayan birds, as high as 5,000 metres by the thermals. Picturesque scenery of the Himalaya, rich culture and ideal flying conditions, Bir-Billing has it all.




Bir-Billing lies at the foothills of the Himalayas in the state of Himachal Pradesh. While you come to paraglide at this place, spare some time to see nearby exotic places namely McLeod Ganj, where exiles the Dalai Lama, or visit Manali to see the world's most stunning road that connects to Ladakh.




The rich and colourful culture of the place adds to its picturesque natural beauty. The Dalai Lama, who settled in here has spread a Tibetain influence over this place. On your tour to the Himalayas, you will not only experience adventure but will also observe culture in its best form.


The ideal season for indulging in paragliding runs from the month of

September till May

. With the arrival of the monsoon in the month of July, all the wishes to fly shall be washed off by the rains. Real thermals kick in during the time between October till December and then from March till April. Thermals that bring you high in the sky are hardly found during the months from December to February.
Powered by SOFTTIX