Home » Adventure Sports » Para Gliding » Para Gliding in Jaisalmer
Para Gliding in Jaisalmer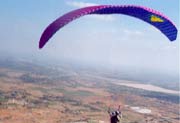 Dare to fly high? Then go for aero sports with the sky as your playground. Get over the fear of height, try paragliding. Paragliding is a sport that is a blend of both skydiving and hand gliding. Paragliding and para sailing are quite similar to each other with the only difference that para sailing is conducted on a beach with a parachute tied to a boat. Whereas in case of paragliding, gentle hill sides are usually the launch sites for the performer. As of present, the machine take off have also made the flat lands a suitable launch site for the glider. The best season for flying ranges from September to December and then between March to June.




The open countryside of the desert land, Rajasthan serves to be one of the suitable site for paragliding in India. The runways and strips in Jaisalmer prove to be a remarkable site for para gliding. Paragliding can also be organised in several other cities of Rajasthan with prior permission from the of the civil aviation authorities.


Alike any other adventure sport, certain risks are involved with paragliding too. In this sport, the glider has to experience the risks of a free fall. But with recent development of better equipments and techniques, the sport has become much safer.
Powered by SOFTTIX