Home » Adventure Sports » Fishing » Fishing in Assam
Fishing in Assam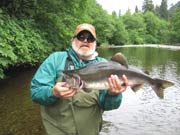 Fishing and Angling are one amongst the favourite sports in Assam. The best time of the year to indulge in fishing and angling in Assam is during the months of March and November. Fishing holidays in Assam can be organized by several travel operators. If you travel with us, we will organise well-planned tours for you. You will be offered all the facilities. Besides fishing, you will also get the opportunity for some fascinating sightseeing also.




Brahmaputra River is the most important fishing point in Assam. Other sites for conducting fishing in Assam include Manas, Kapili and Jia Bhoroli river. The Subanseri and the Bhorili, tributaries of the Brahmaputra River, provide excellent opportunities for catching the Golden Mahaseer.




While fishing in Assam, be prepared for anything and everything. Records show that catfish weighing upto 208 kilograms has been caught here. What one requires to do is to research Assam and its surrounding areas properly. It is also believed that in a lake near the Burmese border, monster fishes are found.


Do carry the basic equipments that include rods, reel, hooks, files, spinners, lines and bait. Wear clothes and sandals that are light and waterproof. Also carry along sunscreen lotion, sunglasses and a hat with you. In you decide to indulge in fishing during the winter months take along sufficient woollen clothings.
Powered by SOFTTIX