Home » Adventure Sports » Fishing » Fishing in Arunachal Pradesh
Fishing in Arunachal Pradesh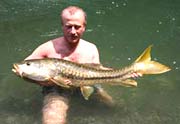 Fishing is an eco-friendly sport. The sport demands a lot of time and patience from those who look forward to indulge in it. India serves to be no less than a paradise for those interested in fishing. The sport is not all that difficult. So those are new to it, do not have to face much problem.




Several fishing opportunities for fishing lovers are available in Arunachal Pradesh. Because of being a simple sport and the availability of plenty of water resources in Arunachal Pradesh, this sport has emerged to become a popular one in Arunachal Pradesh. Sit by the shimmering rivers rich in the population of Mahseer where extraordinary fishing can be performed. Possibilities for catching a fish are extremely good here.




Spots namely Bodak, Yingkiong and Siom on Pasighat in Arunachal Pradesh offer great opportunities for fishing. Lohit River and some other streams are good spots for fishing. Other spots include Tezu, Tipi and Bhalupong. Fishing in Arunachal Pradesh follows traditional yet effective methods for fishing. Catch hold of golden and rainbow trouts while fishing in the in waters in higher parts of the state. Opportunities for trout fishing are also available at other locations namely Tezu, Bhalupong and Pasigaht.




Carry the basic equipments that include rods, reel, hooks, files, spinners, lines and bait. Wear clothes and sandals that are light and waterproof. Also carry along sunscreen lotion, sunglasses and a hat with you. In you decide to indulge in fishing during the winter months take along sufficient woollen clothings. Lohit River and other streams serve to be the ideal fishing spots.


The best time of the year to indulge in fishing in Arunachal Pradesh begins from

October till April

. Come over to Arunachal Pradesh to satiate your hunger for adventure sports.
Powered by SOFTTIX