Home » Adventure Sports » Fishing
Fishing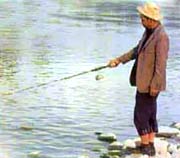 From centuries, fishing has been the favourite past time of the Indian people. The water sport is regarded to be a good leisure activity one can indulge in. Fishing is not only done by those who who love to eat them but by others as well for the sake of fun. Great adventure combined with fishing is offered by the the coastal regions of India. A wide variety of fishes are found inside the rivers in the backwoods.




Angling, a type of fishing focuses on the conservation of fishes. The conservation efforts do not only result in providing a healthy and a better stock of fishes but it also allows the other water plants, mammals, reptiles and birds to get the benefits of this eco-friendly activity. The breeding time of the fishes varies along with the change in the weather. Fishing is not allowed during that time of the year when the fishes are reproducing. Recreational fishing is till date a popular adventure sport across the globe.




Tips

Follow the set of regulations during the fishing season. It gives you the names of the species that may be caught, the options for fishing sites and the permission for the least number of fishes that can be caught in a day. Fishes found in freshwater are namely Trout, Pike, Bass and Salmon while those found in saltwater include Tuna, Tarpon, Sailfish, Marlin and Bonefish.




Equipments

Certain equipments required by the modern recreational fishing include

a

barbed metal hook

with a nylon line and

a rod

in wood, metal or fibreglass. In case you are conducting fishing in salt water, rods and reels that are heavier have to be used. The methods of trolling and surfing remain the same. Bamboo pole is till date used for fishing without the use of reel.
Powered by SOFTTIX