Home » Adventure Sports » Jeep Safari » Jeep Safari in Jaisalmer
Jeep Safari in Jaisalmer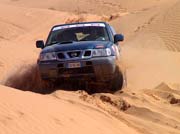 Unravel the mysteries of the least accessible places of India through a Jeep Safari. Whether the terrain is rough or rocky, the jeep is a sturdy vehicle that allows to travel with comfort and ease. The unique and varied topography of India makes jeep the best source so as reach upto some of the unique destinations. Travel in a jeep across the desert landscape amidst the shifting sand dunes that spread upto vast stretches on the land of the Jaisalmer City. The ride will enable you to explore those unexplored facets that will leave you in wonderment.




Travel for a few hours everyday through the rugged terrain. Stay overnight at the camps each day. The experience will be unique in itself. Jeep safaris are not merely hiring a jeep to commute between two destinations. Therefore, to make your safari experience a memorable one ensure that you go for a reputed organization that offers up to the mark services. The manpower it is equipped with should have a deep knowledge of Jaisalmer City. Make sure that the driver and the team of professionals that accompany you on your trip are good enough to take care of the arrangements to be made for each day.




In order to enter into some of the areas, tourists from abroad require permits. Thus, it is advised that all the arrangements for conducting a jeep safari are made beforehand.


Open jeep safari is the most convenient way of exploring the extremities of the Thar Desert. The best time to opt for a jeep safari in Jaisalmer is during the

winter months

that offers the winter chill with a warm sunshine. The vast sandy desert stretches of Jaisalmer, the tribal and rural regions in the nearby vicinity, the havelis and forts of Jaisalmer are eagerly waiting to be explored. The beauty of the city will enchant you with all its charm.
Powered by SOFTTIX