Home » Adventure Sports » Jeep Safari » Jeep Safari in Himalayas
Jeep Safari in Himalayas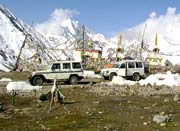 The Himalayan range is the highest as well as the youngest mountain range on the planet. Housing the highest peaks of the world, the Asian mountain range derives its name from a Sanskrit word meaning "the abode of snow". The Himalayas have so far been the theme of several books and Hollywood movies.




A jeep safari that enables you to enter the heart of the Himalayas is possibly the best way to explore the natural beauty the place is bestowed with. While you cross the tough terrains, the gushing lakes and high passes in a jeep you will find loads to see and experience. You get a chance to explore those areas that otherwise remain unexplored. Those remote areas that are reached after several days of trekking can easily be reached through jeeps.




In order to cross the roads hurdled by streams and rocks, careful and experienced drivers accompany you. In order to make your journey pleasurable you are also provided with a kitchen crew and an English speaking guide. Venture into the Himalayas through a jeep safari.


While you see the region you will feel as if it is impossible to explore the Himalayan India in any other way except on foot. But the

region of Spiti

in the foothills of the Himalayas offers extraordinary opportunities for jeep travel.
Powered by SOFTTIX