Home » Adventure Sports » Jeep Safari
Jeep Safari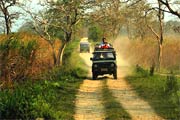 Those who have a craving for exploring the lands should definitely indulge in Jeep Safaris. It is not easy to venture through the rugged terrains, unexplored passes and gushing waters of mountain valleys. Indulging in jeep safaris under extremely chilly conditions attracts a horde of adventure enthusiasts towards this adventure sport.




Those who are fond of exploring the different facets of nature in a natural way can choose to travel in jeeps through the lush green thickly wooded forests. Observe the sights and surprises that will fascinate even the most seasoned traveller. You may also have the chance to come face to face with a ferocious animal if you venture into a national park.




Tips

Jeep Safaris are organised by several tour operators. Make sure that the tour operator you choose is a reputed and a licensed one. A jeep safari is not merely about hiring a jeep in order to travel between two preferred destinations. It extends beyond this. A safari actually means to travel across the less explored destinations. It can even include driving on off- road tracks such as a desert.


The duration of a jeep safari tour varies according to the needs of travellers who undertake it. Safari trips that are planned according to the requirement of an individual include picnic lunches, fitting of camps in open countryside and much more fun. One can also choose to stay in heritage hotels or tourist resorts.
Powered by SOFTTIX